What is Strategic Design?
Organisations need to define and implement their innovation strategies by integrating user, business and product areas. This approach allows to address the challenges from a holistic point of view, allowing to focus on all those aspects that influence decision-making and the detection of business opportunities.

At Infinitia we look for ways to improve your value proposition. That differential advantage, innovating in current business models and creating new ones. We analyse the potential of your idea, to find out if it will have an impact on the market and be able to develop it successfully.

Our strategic design team is made up of experts in industrial design innovation, engineering and marketing. We work together with you, communicating and solving your problems as if they were our own.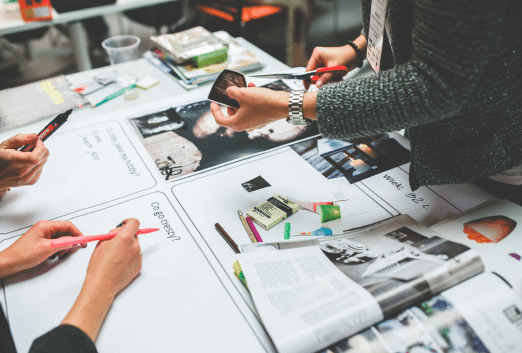 How does Infinitia approach Strategic Design?
At Infinitia we research the user and the market, carrying out customised qualitative and quantitative studies. We identify and understand the needs of our clients, thus offering value propositions.

Our work covers the different phases of strategic design: from market research and study to the design of products and services, including analysis of the business model and the market. We use the most appropriate methodologies for each business, understanding and identifying the strengths of a company.

Thanks to all the information obtained, we achieve clarity to develop a value proposition with greater impact on the market.

At Infinitia we carry out market research in order to determine the viability of a new product or service, as well as to know the acceptance that it may have. We discover potential market niches to focus on.

We study the market, knowing the current competition and obtaining feedback from future clients. We make your business rise, through research and study.

We carry out the global design of your products or services, thanks to the studies previously carried out on the market, users or business.

We offer you solutions adapted to all kinds of scenarios: from a better development of the user experience, through our UX design; to the implementation of branding or brand image and its different strategies such as packaging, through graphic design; to the improvement of industrial parts and their components, thanks to product design.

In order to implement a correct strategic design, it is necessary to carry out a complete business analysis. At Infinitia, we analyse both the internal characteristics and the external situation of a company, project or product.

In this way, we obtain a double way of information, where we observe the strengths as well as the possible threats of the business. Our objective is to generate a solid value proposition, which serves to ensure the viability of the business.

We identify the habits, behaviours, motivations, attitudes, opinions, desires and needs of users through different types of qualitative and quantitative analysis.

In this way, we discover what the user really wants and we create a product or service in accordance with their demands. This is a very important phase in strategic design.
Request a call, tell us about your project and we will call you back.
receive a tailored professional response
What benefits does Infinitia bring through Strategic Design?
Coming up with new concepts, building other projects, identifying what your customer really wants or even knowing whether your products or services have an impact on the market are complex actions. A process full of uncertainty for those small and medium-sized companies that do not have an area specialised in market and business research.

Strategic design can help you at different levels within your organisation, no matter if your problem is very specific or if it covers many aspects. At Infinitia, we adapt to your case.
• We conduct user research by designing and executing customised qualitative and/or quantitative studies. Our work ranges from identifying the best methodologies for the research, to carrying out the studies and their subsequent analysis. This means, from understanding the context of the study to identifying the value proposition we have to offer our clients.
• We analyse the business, studying and understanding the current state of the market and identifying future lines of development. This will provide you with clarity about the value that your product can have. It will also allow us to understand, through business cases and feasibility studies, how we can further develop this value to increase market impact.
We consolidate and integrate the strategic level, the business level and the operational level:

o At the strategic/corporate level, we provide a source of competitive advantage that acts as a catalyst for change in the scope and direction of the organisation.

o At the enterprise/business level, we create unique product and service concepts, which will serve as a tool to pursue new competitive strategies and reinforce existing ones. At this level the focus is on the future needs of customers and the objectives of the business unit.

o At the operational/functional level, we concentrate on improving the efficiency of individual projects, design processes and the management of the design team itself.
Works done in Strategic Design
Request a call, tell us about your project and we will call you back.
receive a tailored professional response