What is Product Development?
We combine different types of development (mechanical, electronic, etc.) to offer a complete product development, which can range from mechanical development and electronic development to manufacturing, including prototyping.

We make the difference. At Infinitia we develop products from scratch, creating prototypes to establish in the market. Therefore, we carry out previous market studies, as well as analyze future users to know what they really need and want.

In this service, we provide you with different solutions in technology, design, simulations, as well as software and hardware programming. We design and manufacture from scratch to create a genuine product that stands out from the rest.

Our group of Infinitia's product development professionals works in different areas, in order to create the best possible result. An original, functional and perfect product to establish in the market. Discover how we can help you in the development of your project.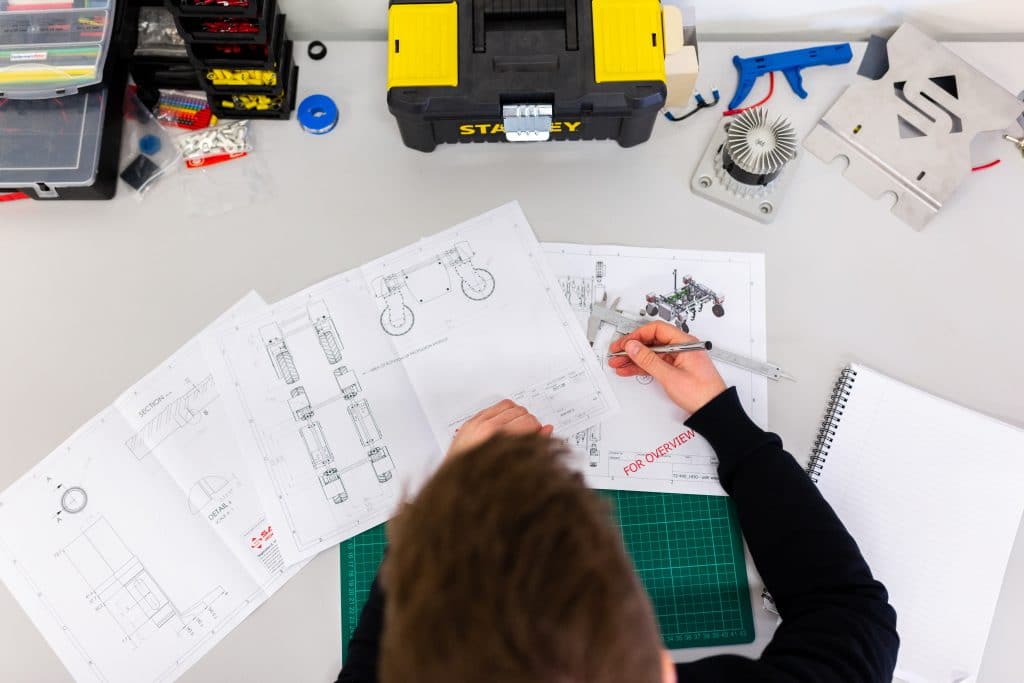 How does Infinitia approach Product Development?
We develop our products with our customers in mind. We reduce costs and time and increase functionality. Our team of prototyping experts uses the latest technologies and strategies to implement one of our products.

Indeed, we make your idea tangible. From Infinitia, we offer you a global solution in product quality: technology, innovation, design and manufacturing.

We implement and validate ideas. We carry out prototypes and analyze their functionality and finishes, in order to continue with their manufacture and subsequent production.

We facilitate the design and development of mechanisms, actuators, CAD design, selection and optimization of components… thanks to mechanical development, in Infinitia we create parts from scratch or improve existing ones. We offer its best version, adapting them to the industry.

We cover processes ranging from PCB hardware design to embedded system firmware programming, as well as software development for testing. We take care of the development of electronic products, making use of the most innovative technology for your business.

We carry out prototypes for continuous validation of ideas. Constant testing facilitates greater security, viability, functionality and efficiency in the creation of the product. We carry out several tests, using different methodologies and techniques to turn your project into reality.

We offer the possibility of manufacturing products, from small runs through 3D printing, short runs; to support for industrialization. We provide advice on the different procedures; in addition to the best suppliers.
Request a call, tell us about your project and we will call you back.
receive a tailored professional response
What benefits does Infinitia bring through Product Development?
We look for alternative solutions at Infinitia, taking into account your needs and objectives. Our creativity and ingenuity are at your service. Thus, to carry out the development of your product, we take into account all its phases.

Both the mechanical development and the electronic development, also taking into account the prototyping and subsequent manufacturing. Our mission is to offer you an original, high quality and efficient product, ready to be distributed to the market.
We look for alternative solutions at Infinitia, taking into account your needs and objectives. Our creativity and ingenuity are at your service. We perform a complex brainstorming, taking into account various studies and feasibility tests. We help you to develop your product, in an ideal way at all levels.
Constant testing will provide the best version in the development of your product. To do this, we use prototypes that will allow us to check the possible problems that may arise during its creation and manufacture.
Functionality is one of the most important properties in the development of any product. From selecting its components, to carrying out an aesthetic design for its finishes; everything counts in the manufacturing process of a prototype or demonstrator. We propose a functional design, adaptable to market demands.
We use the most avant-garde techniques and methods, as well as the most innovative technology. We want to offer you a genuine and completely up-to-date product, bearing in mind its mechanical and electronic components.
We work on insurance. We validate the different components or elements, in order to ensure the greatest possible security when marketing your product. In Infinitia we pay attention to all the product development processes to generate a good user experience.
Works done in Product development
Request a call, tell us about your project and we will call you back.
receive a tailored professional response