If we were to look back a few years, 3D printing was talked about as a very new technology with great potential. In the year 2021, it seems outdated to describe 3D printing as something futuristic, since it is a reality that is used on a daily basis at industrial and even domestic level.
According to different market studies, it is estimated that almost 50% of manufacturers will use this type of technology, so that the related business will grow considerably, approaching 19 billion euros. In the industrial field, new materials are being developed, improving machines in terms of speed, price and software, as well as increasing the capacity of printed parts.
Laura del Rio, Engineer Specialist in Plastics Design and Prototyping, explains how Infinitia has been committed to this technology since our beginnings, as it is a very valuable tool when validating models, product designs or preparing tools for our day-to-day work in the laboratory.
This process, which brings full performance to Infinitia's strategic design and prototyping area, provides ecological and economic advantages that feed back on each other. To name a few: greater efficiency in the product manufacturing process, low cost in low-run parts, reduction of material waste to a minimum, specialized and customized work strategy, for example, by studying the technical feasibility of a new product and making the design of an MVP or validation of assemblies and ergonomic postures during the assembly of the final product in series.
There are different techniques to achieve, through 3D Printing, a final prototype -the main use that Infinitia employs-, either aesthetic or functional. We review the procedures that we combine in our processes:
3D printing by fused material deposition (FDM), uses filament spools of materials such as PLA or ABS commonly, although today there is a wide range of materials, colors and additives.
It is the cheapest prototyping technique, so it is usually used on large parts; however, it has certain resistance limitations due to the adhesion between layers and surface finishes of the resulting objects. The direction in which the layers are deposited is decisive in the strength of the part and in achieving certain geometries.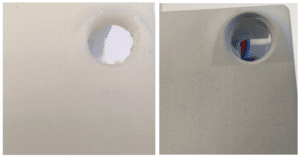 Figure1. Comparison of FDM (left) vs SLS (right)
Selective laser sintering (SLS) is a method of additive manufacturing by superimposing layers of material in powder form, mainly polyamide, which become a solid part when melted by the laser. At Infinitia we have the HP Multijet Fusion printer, which produces resistant parts with good finishes. It allows to create very good details in critical areas. A very interesting advantage is that it allows to test the operation of clipping in plastic parts; since, due to its technology, it creates walls with great flexibility and bending behavior very close to an injection molded part.
Figure 2. Part in SLS (left), SLS vs SLA comparison(right)
Finally, resin or stereolithography (SLA) printers consist of manufacturing parts by bonding successive layers of photosensitive resin cured by ultraviolet radiation. It is suitable for small parts, with careful aesthetics and very precise details. It is one of the most popular technologies at a domestic level, widely used by model and diorama enthusiasts.